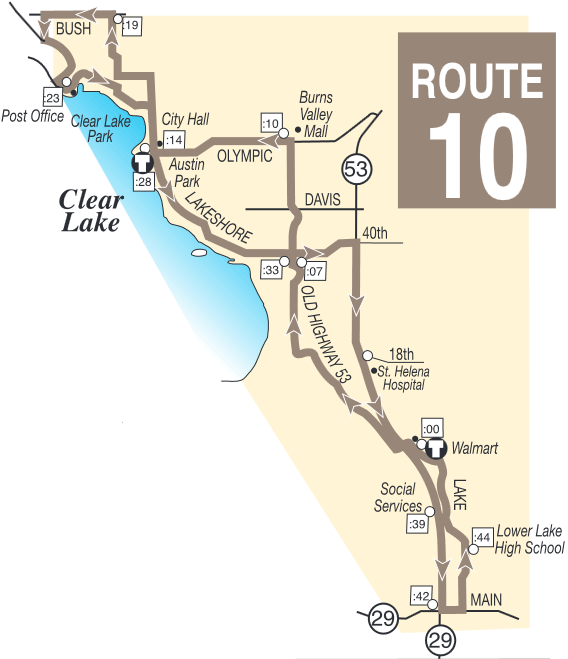 Clearlake / Clearlake Park North Loop
Print Route Map (effective September 18, 2017)
indicates transfer point with timed transfers.
* Route 10 Southbound passengers at Austin Park may transfer to Route 12.

Shaded times indicate Monday through Friday Service only.

Times shown in light are AM. Times shown in bold are PM.
Times shown with

strikethrough

are currently suspended due to the COVID-19 pandemic.
Route 10 – Clearlake / Clearlake Park North Loop
Walmart
Old 53 & Lakeshore
Burns Valley Mall
City Hall
Olympic & Lakeshore
Bush & 2nd
Clearlake Park Post Office
Austin Park West*
Veteran's Clinic Lakeshore
Lake County Social Services
Highway 53 & Main
Lower Lake
Lower Lake High School
Walmart
—
—
5:19
5:23
5:28
5:32
5:37
5:42
—
5:49
5:51
5:55
6:00
6:07
6:10
6:14
6:19
6:23
6:28
6:33
6:39
6:42
6:44
6:48
7:00
7:07
7:10
7:14
7:19
7:23
7:28
7:33
7:39
7:42
7:44
7:48
8:00
8:07
8:10
8:14
8:19
8:23
8:28
8:33
8:39
8:42
8:44
8:48
9:00
9:07
9:10
9:14
9:19
9:23
9:28
9:33
9:39
9:42
9:44
9:48
10:00
10:07
10:10
10:14
10:19
10:23
10:28
10:33
10:39
10:42
10:44
10:48
11:00
11:07
11:10
11:14
11:19
11:23
11:28
11:33
11:39
11:42
11:44
11:48
12:00
12:07
12:10
12:14
12:19
12:23
12:28
12:33
12:39
12:42
12:44
12:48
1:00
1:07
1:10
1:14
1:19
1:23
1:28
1:33
1:39
1:42
1:44
1:48
2:00
2:07
2:10
2:14
2:19
2:23
2:28
2:33
2:39
2:42
2:44
2:48
3:00
3:07
3:10
3:14
3:19
3:23
3:28
3:33
3:39
3:42
3:44
3:48
4:00
4:07
4:10
4:14
4:19
4:23
4:28
4:33
4:39
4:42
4:44
4:48
5:00
5:07
5:10
5:14
5:19
5:23
5:28
5:33
5:39
5:42
5:44
5:48
6:00
6:07
6:10
6:14
6:19
6:23
6:28
6:33
—
6:42
6:44
6:48
7:00
7:07
7:10
7:14
7:19
7:23
7:28
7:33