Highway 175, Kit's Corner to Middletown
Print Route Map (effective September 5, 2023)
indicates transfer point with timed transfers.
Route 2 operates Monday through Friday only.
Times shown in light are AM. Times shown in bold are PM.
Times shown with

strikethrough

are currently suspended.
Commuter Tip: A timed transfer between Route 2 and Route 4 at Kit's Corner will get commuters to Lakeport or Clearlake before 8:00 a.m., with return schedules after 5:00 p.m. Compare the Kit's Corner times or call Lake Transit at 994-3334 for more information.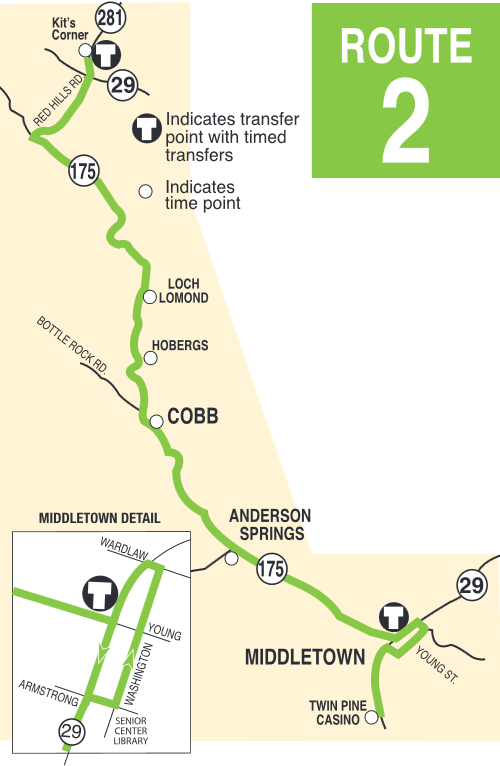 Route 2 – Kit's Corner to Middletown   Southbound
Soda Bay Road
Mountain Resorts
Middletown
Riviera Shopping Center
Kit's Corner
Loch Lomond
Hobergs
Cobb – Hardester's Market
Hwy 175 & Anderson Springs Rd
Twin
Pine Casino
Hwy 29 & Young St
7:00
7:40
7:52
7:56
8:00
8:08
8:22
8:26
—
11:40
11:52
11:56
12:00
12:08
12:22
12:26
—
2:55
3:07
3:11
3:15
3:23
3:37
3:41
Route 2 – Middletown to Kit's Corner   Northbound
Middletown
Mountain Resorts
Soda Bay Road
Hwy 29 & Young St
Hwy 175 & Anderson Springs Rd
Cobb – Hardester's Market
Hobergs
Loch Lomond
Kit's Corner
6:35
6:44
6:53
6:56
6:59
7:13
8:26
8:35
8:44
8:47
8:50
9:04
10:35
10:44
10:53
10:56
10:59
11:13
3:45
3:54
4:03
4:06
4:09
4:23