Lakeport – Ukiah
Print Route Map (effective October 2, 2023)
Shaded times indicate Monday through Friday service only.
All Route 7 runs are express schedules with limited stops and operate Monday through Saturday.
Times shown in light are AM. Times shown in bold are PM.
If you are arriving in Ukiah via Greyhound or Amtrak and your bus is late, please call (707) 994-3334 as early as possible for connection information.
Lake Transit accepts the Mendocino Transit Authority (MTA) transfer for a $1.00 discount on Route 7 trips originating in Mendocino County. MTA accepts Lake Transit Route 7 transfers to ride free within the MTA bus fare zone where the passenger changes buses.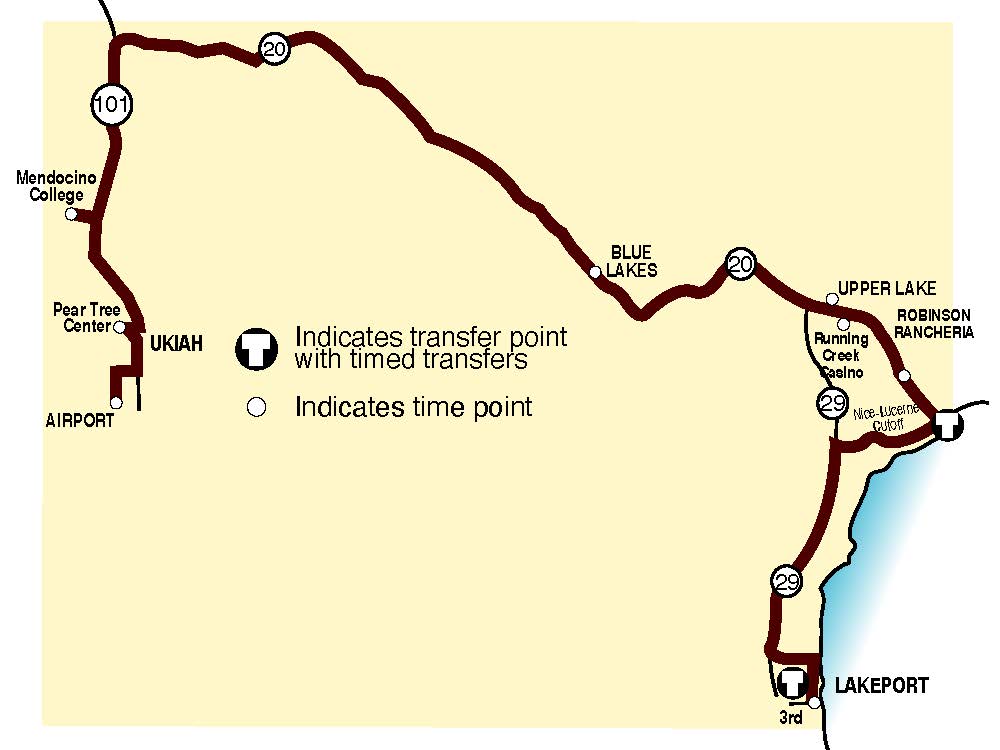 Route 7 – Lakeport – Ukiah Westbound
Lakeport
Upper Lake
Blue Lakes
Ukiah
Third & Main
North Shore Sentry Market
Main St & Highway 20
Blue Lakes Lodge
Mendocino College
Pear Tree Center
Airport
LTA
LTA
MTA/Amtrak
Greyhound
8:00
8:19
8:28
8:38
8:59
9:14
9:26
12:00
12:19
12:28
12:38
12:59
1:14
1:26
3:00
3:19
3:28
3:38
3:59
4:14
4:26
5:00
5:19
5:28
5:38
5:59
6:14
6:26
Route 7 – Ukiah – Lakeport Eastbound
Ukiah
Blue Lakes
Upper Lake
Lakeport
Airport
Ukiah Valley Medical Center
Pear Tree Center
Mendocino College
Blue Lakes Lodge
Main St & Highway 20
North Shore Sentry Market
Third & Main
Greyhound
MTA/Amtrak
LTA
LTA
9:34
9:41
9:46
10:01
10:22
10:32
10:41
11:00
2:00
2:07
2:12
2:27
2:46
2:56
3:05
3:26
5:00
5:07
5:12
5:27
5:48
5:58
6:07
6:26
7:00
7:07
7:12*
7:27
7:48
7:58
8:07
8:28
* Does not connect with MTA CC Rider
Will stop at Veteran's clinic in Ukiah by request only