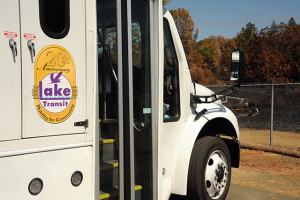 On July 1, Lake Transit celebrated its 20th Anniversary of providing bus service for Lake County. In 1996, Lake Transit started with nine 7-passenger mini-buses and began running dial–a-ride service. In September 1996, our message was, "Easy as 1, 2,3", when we told you about the three new bus routes serving the North Shore, Cobb, and Middletown. By the end of the first year, we added Route 4 between Clearlake and Lakeport. Lake Transit carried nearly 70,000 passengers in the first year and was considered a big success.
When Lake Transit first started, many said that local bus routes would never work in the City of Clearlake. In November 1997, the first local bus route started and was an immediate success. Route 5 in Clearlake carried more than 30,000 passengers in its first full year. Also in 1997, bike racks were added to all of the route buses. In the summer of 2000, Lake Transit marked the millennium with installation of its first passenger waiting shelters at 13 locations around the Lake.
In late 2002, Greyhound discontinued service to Lake County, so Lake Transit started Route 7 to Ukiah in January 2003. The new route would restore intercity connections for the County by connecting with Greyhound and Amtrak. Route 4A service along Soda Bay Road also began in 2003.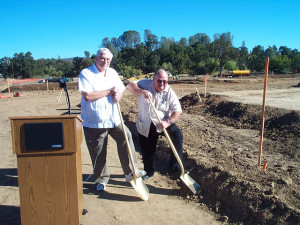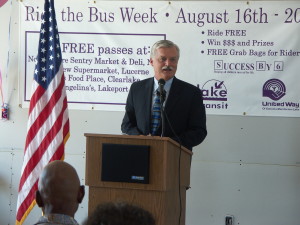 Lake Transit's Lamkin-Sanchez Operations and Maintenance Facility opened in time for Christmas in 2004. This wonderful facility was named in honor of Dick Lamkin and Sam Sanchez, two community leaders who were instrumental in the development of Lake Transit Authority. The facility itself was made possible through legislation introduced by Senator Wes Chesbro to create the Rural Transit System Grant Program.
Over the next several years, Lake Transit gradually increased the frequency of regional bus schedules. In 2009, Route 8 began in Lakeport. The start of new routes 10, 11, and 12 in Clearlake in 2013 ended years of overcrowding and constantly late buses. From 2013 through 2015, Lake Transit experimented with extended evening hours using one-time grant funds. While many of the later evening schedules were eventually reduced, the current bus schedules operate until as late as 8:00 or 9:00 p.m. in many areas.
In our 20th year, despite multiple fires and service disruptions, Lake Transit carried 372,170 passengers. Sometime in December or January, Lake Transit will carry its five millionth passenger!